Digital Print - 10 pack - Blue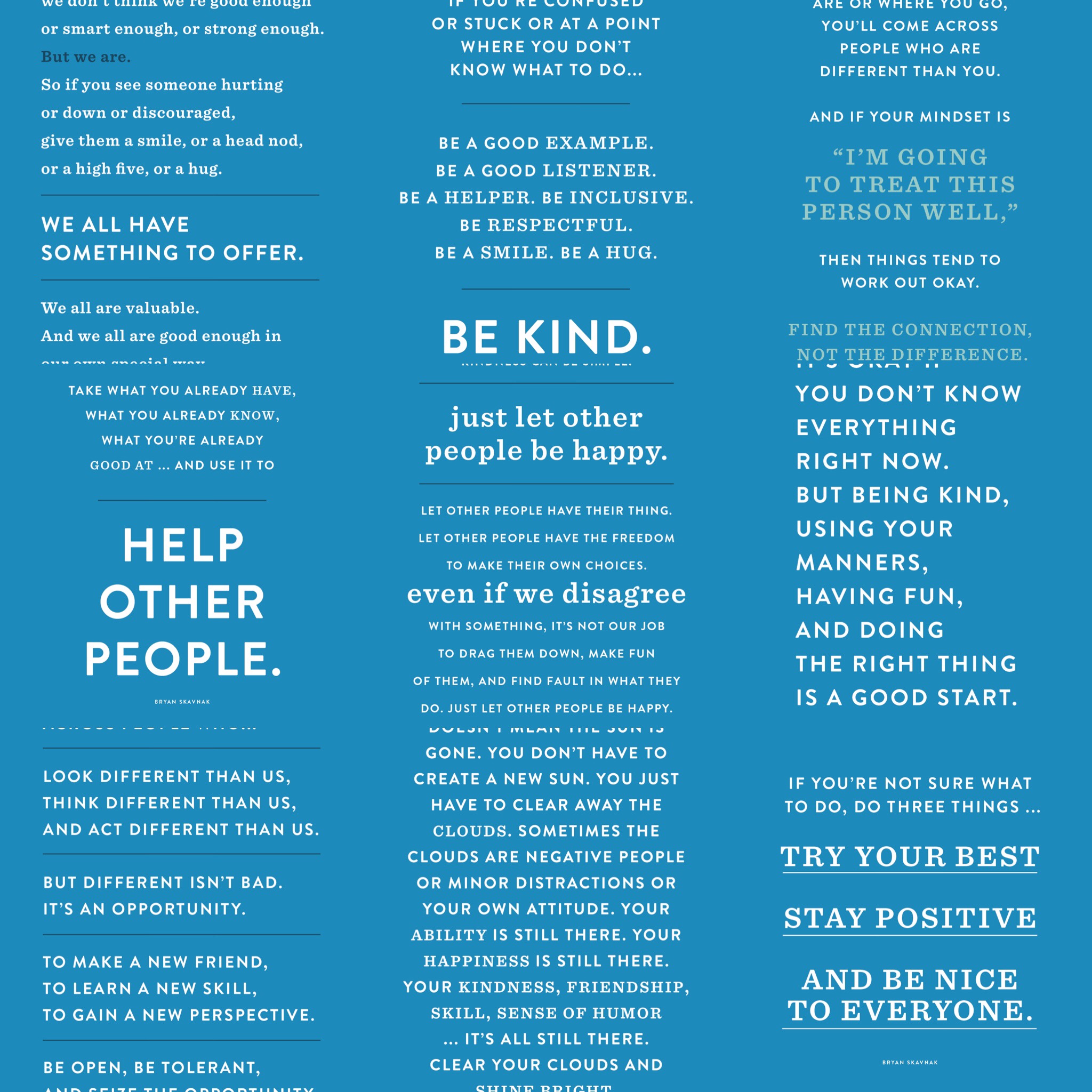 Digital Print - 10 pack - Blue
EVERY CLASSROOM IN THE WORLD
That's where we believe this can go. And should go. Be the Nice Kid brings character programs to schools teaching kindness, empathy, positivity and so much more.
Maybe they're just words. But, maybe it's more than that. Maybe it will spark something inside of you. Maybe it's a reminder to do something nice. Or an opportunity to set a good example. Or a chance to inspire change. Or maybe, just maybe, it's a kindness revolution.
This is a Digital PDF Download... which means you can print it to your favorite canvas, poster, paper, or whatever you'd like. Prints best as 2x3 sizes (ex: 4x6, 16x24, etc) for framing purposes, but can be made smaller or larger as proportionate sizes (if you're not framing). You'll receive an email with the link to download all 10.
The 10 included are:
We All Have Something to Offer…

If You are Confused or Stuck…

Find the Connection…

Start from a Place of Kindness…

Help Other People…

Let Other People Be Happy…

Good Start

Seize the Opportunity…

Shine Bright…

Do Three Things…
Download link expires in 24 hours. Perfect for classrooms, teachers' gifts, kids' rooms, daily reminders, or wherever you'd like to be an inspiration.
Printable Files, Terms of Use:
:::::::::::::::::::::::::::::::::::::::::::::::::::::
You CAN:
1. Print printable files for personal use.
2. Give away a print as a gift (please no more than 3 times per printable, if you need to print more than 3 for a gift, please make another purchase!).

You CANNOT:
1. Share the file with anyone via email, USB, or any other means.
3. Sell the printable file to anyone else.
3. Sell print outs of the printable file to anyone.
4. Use the printable files or print outs in giveaways without permission.
5. Edit, manipulate, or use the printable file on products for sale.
6. Use printable files for ANY commercial use.

Purchase does not transfer rights. Copyright of designs remains with the artist. By purchasing this item, you have agreed to the full terms of use listed above.